In 13 starts on the Pro Series, Curran racked up a Tour-high three wins and finished seventh or better seven times en route to winning the money title and – more importantly – the 2013 NGA TOUR Player of the Year award.
"It's awesome," Curran said of claiming the prestigious title. "I'm not one to sit around and think about awards, but you've got to enjoy something like this. When you hear names like [past NGA Players of the Year and PGA TOUR winners] Chad Campbell, Michael Thompson, Ted Potter Jr. and Zach Johnson, this award is bigger than I realized. I've never been among guys like that before and I'm going to enjoy it."
And he should.
When Curran joined the NGA TOUR in 2009 after a stellar collegiate career, he struggled to crack the top 10. The Hopkinston, Mass., native needed 35 starts on the Pro Series before recording his first top 10.
"A few years ago, I thought it was impossible to finish in the top 10 on the NGA TOUR," said Curran. "I can pinpoint the reasons I'm playing the way I am right now. I'm not getting into trouble and I'm not getting caught up in what everyone else is doing. I also don't stress over every putt or let not making a birdie get to me as much. I'm comfortable with my game right now."
Though Curran is content for the moment, he realizes his main goal to join his former high school teammate and NGA TOUR alum Keegan Bradley on the PGA TOUR is still out there.
"I think the reason I played well all season is because I stayed thirsty all year," said Curran, who also earned a top 25 on the PGA TOUR this season. "In the past, I may have been content with just winning once. But this season, I wasn't satisfied with winning once or just being in contention. I've had years where I hit the ball better, but this is my best season overall because I didn't get satisfied. "
While it took Curran a few seasons on the NGA TOUR to find his footing, Blayne Barber felt at home on the top-rated developmental tour from the outset. Last year, the Auburn alumnus won in his second Pro Series start and continued to shine in his first full season on the NGA TOUR in 2013.
Barber, of Lake City, Fla., opened the season with a pair of T5 finishes before picking up his second Pro Series win in the Savannah Lakes Village Classic in his third start of the season. The 2012 All-Nicklaus team member had a chance to add another victory to his record, but he came up short in a playoff in the Florida Marine Open in July. Barber finished the season with four top-five finishes and two other top-15s and was named the NGA TOUR Rookie of the Year.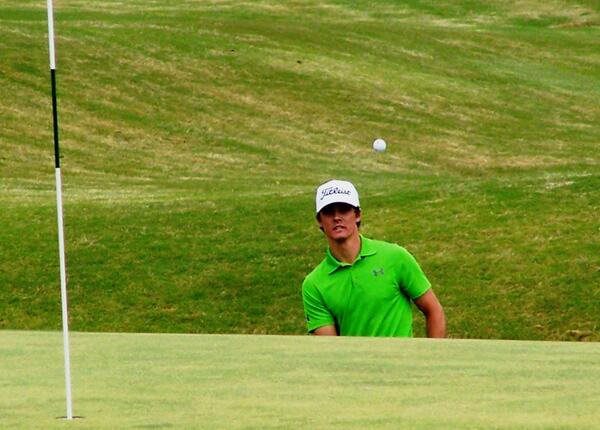 "When I got the call, it felt great," said Barber. "It's an honor to have my name on that award with so many great players. With the amount of competition on the NGA TOUR, you have to play really well to compete. It's a great place to play, stay sharp and get a gauge on how well you're playing."
In addition to his time on the NGA TOUR, Barber also excelled on the PGA and Web.com Tours during the 2013 season, earning over $100,000 on the top two tours. In PGA TOUR competition, Barber posted a T24 and T42 in three starts and added finishes of T2, T6 and T57 in seven starts on the Web.com Tour to earn conditional status on the No. 2 tour for the 2014 season.
Past winners of the Rookie of the Year award include 2013 Web.com Tour members Ryan Spears (2011), Will Wilcox (2010), Philip Pettitt Jr. (2009) and Russell Knox (2008). There is also an impressive lineage of winners of the Most Improved award on the NGA TOUR, and the newest member, Jack Newman, hopes to add to it.
After missing nine of 15 cuts and posting just one top 10 in 2012, Newman, the 2008 U.S. Amateur Public Links champion, returned to form in 2013, recording six top-15 finishes, including three top-5s, and only missed two cuts in 14 starts.
"I'm pleased that I'm taking steps in the right direction and doing things right," said Newman, an alumnus of Michigan State. "I used to stress out about not making birdie on every hole, but I just worry about putting the ball in play and take it as it comes now. I guess knowing that you're not going to birdie every hole has led to me being more comfortable out there. I got humbled a bit over the winter, too. I was at home and didn't get to play much and it was an eye-opening experience. It really put my priorities straight. I was able to contend for wins this season and I'm happy that my game is trending in the right direction."
PGA TOUR members Michael Thompson and Joe Affrunti have also earned the Most Improved award on the NGA TOUR.
Jonathan Randolph earned co-Rookie of the Year honors in 2012 and he added another post-season accolade to his resume this season. The former Ole Miss standout from Brandon, Miss., earned the NGA TOUR Golf Achievement award, given to the player that best exemplifies a professional golfer both on and off the course.
"It's a big honor because at the end of the day, win or lose, you want be able to look at yourself in the mirror and be proud of who you are," said Randolph. "I strive to be the best I can be in every aspect of the game. It's a great honor to win this award, but it all goes back to my parents. They always taught me patience and to be quick to forgive. It didn't happen overnight, but I pride myself on it now."
The NGA Pro Golf Tour is the No. 3 Men's Professional Golf Tour in the United States after the PGA and Web.com Tours and is the No. 1 recommended developmental tour by more PGA and Web.com Tour Professionals.
The NGA has helped hundreds of professionals acquire their PGA TOUR, Euro, Web.com, and Champions Tour cards. In fact, NGA alumni have won an incredible Fifteen (15) "Major" Championships.
NGA alumni include: 2012 Masters champion Bubba Watson; 2011 PGA Championship winner Keegan Bradley; 2010 PGA TOUR Player of the Year and 2003 US Open Champion Jim Furyk; 2009 British Open Champion Stewart Cink; 2009 U.S. Open Champion Lucas Glover; 2007 Masters Champion Zach Johnson; 2003 PGA Champion Shaun Micheel; 2003 British Open Champion Ben Curtis; two-time U.S. Open Champion Lee Janzen; British Open and PGA Champion John Daly; British Open Champion Tom Lehman; PGA Champion David Toms; 2003 Tour Championship Winner Chad Campbell; 2010 NGA Player of the Year Michael Thompson; 2012 PGA TOUR winners Mark Wilson, George McNeill, Ted Potter Jr., Scott Stallings and Scott Piercy.
At this year's PGA Tour Qualifying School, 52% of those earning full exempt status on the PGA TOUR and 67% of those earning full exempt status on the Web.com Tour were past NGA Professionals. Another 16 NGA Professionals advanced to the PGA TOUR for 2012 by finishing inside the Top 25 on the Web.com Tour money list, including 2011 NGA members Ted Potter Jr., Russell Knox and Billy Hurley III.
The NGA Pro Golf Tour, established in 1988, predates the Web.com Tour as the longest running developmental tour in golf. In 2012, the NGA TOUR became the "Official Partner of the 2012 Reno-Tahoe Open" and secured one PGA TOUR and six Web.com Tour event exemptions for its members, the most in developmental golf.
For more information on the NGA or the NGA Pro Golf Tour, please visit our website at www.NGATOUR.com or contact our Tour Office at (800) 992-8748.